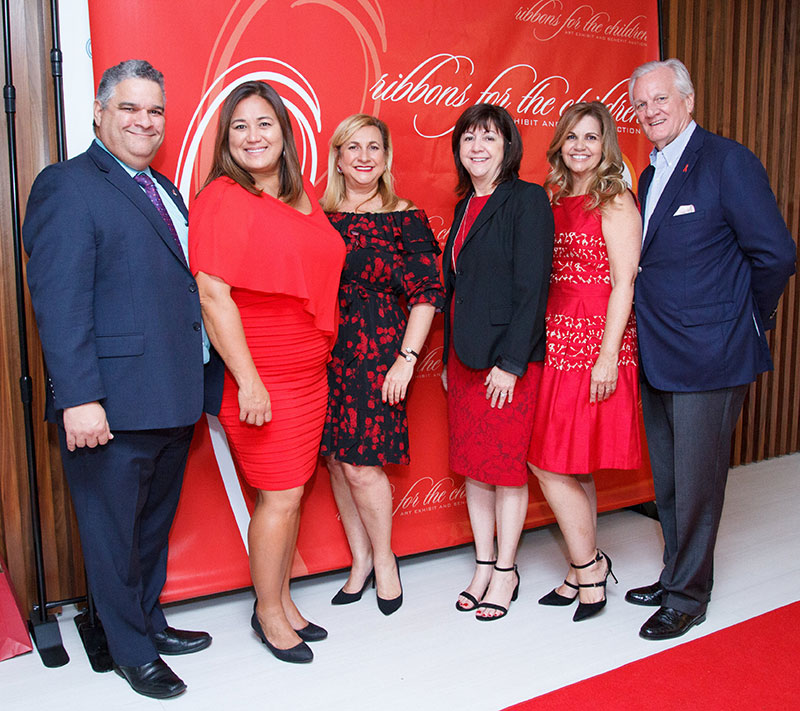 Daniel J. Alfonso, Jane Bolin, Juliette Lippman, Maria Pierson, Ana Calderon Randazzo and L. Jack
FORT LAUDERDALE, Fla. – Children's Diagnostic & Treatment Center (CDTC) will host the 14th Annual Ribbons for the Children, an art exhibit and silent art auction on Friday, December 6 from 6 to 9 p.m. at Nova Southeastern University (NSU) Huizenga College of Business in the Dr. William S. Spears Courtyard Atrium.
"Ribbons for the Children is so important because the funds raised provide critical support to the children and families infected and affected by HIV/AIDS," said Maria Pierson, event co-chair and CEO of Pierson Grant Public Relations. "The stories of the critical work that is done at CDTC and the impact it has on families is such an inspiration. We invite the community to join us in our efforts to support CDTC."
Guests also will enjoy a champagne wall, cocktails and hors d'oeuvres while bidding on the artwork donated by more than 60 talented local artists. More than 200 guests are expected to attend.
"The arts community has been incredibly supportive of Ribbons for the Children," said Chuck Williams, event founder and co-chair. "We are so grateful to all the local artists who continue to come back each year and for the new artists who donate their time and talent to such a tremendous cause."
Tickets are $75 if purchased before November 1 and are $100 if purchased after November 1. NSU faculty and staff tickets are $25. For information visit http://childrensdiagnostic.org/ribbons-for-the-children/
The Anthem Foundation and Pierson Grant Public Relations are among the event sponsors.
CDTC's Comprehensive Family AIDS Program (CFAP) was established in 1991. Clients in CFAP have access to a full array of onsite health care services for HIV including primary and specialty care, phlebotomy, gynecological screenings, nutrition and adherence education and counseling. All clients in the CFAP program have a medical case manager to provide education, support and linkage. Services are provided in the same location, reducing the need for families to travel to multiple providers for care and facilitating the coordination of services to promote healthier outcomes.
About CDTC Children's Diagnostic & Treatment Center (CDTC) is a not-for-profit that serves more than 12,000 clients with special healthcare needs in Broward County annually. As a facility of Broward Health, CDTC's mission is to promote the optimal health and well-being of children with special healthcare needs by providing comprehensive prevention, intervention and treatment services. CDTC was awarded Level 3 Patient-Centered Medical Home (PCMH) Recognition by the National Committee for Quality Assurance (NCQA) and is a nationally recognized "Center of Excellence" offering a unique system of care for infants, children, youth and women with chronic illnesses, disabilities and developmental delays. Visit ChildrensDiagnostic.org. Contact Ashley York at 954.728.1019 or ayork@browardhealth.org for sponsorship inquiries.