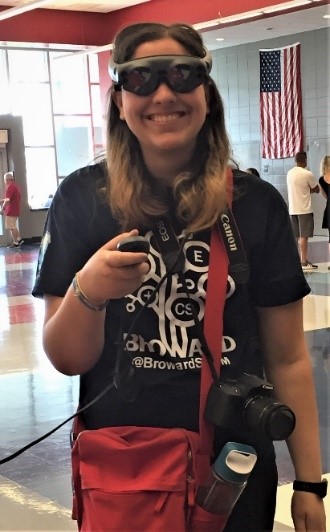 Broward County Public Schools (BCPS), along with Magic Leap and the Florida Panthers Foundation, is providing students with cutting-edge technology through the Magic Leap One – adding a new dimension to their learning. Developed by Plantation-based Magic Leap, the spatial computing headset lets users see and interact with digital (virtual) content in the real world. It is incorporated into students' curriculum to increase high school educational experiences and engagement.
An agreement, approved by the Broward County School Board on October 2, 2019, furnishes the District with a total of 90 Magic Leap One devices. Of the 90, the Florida Panthers Foundation are donating 25, Magic Leap is providing five and the remainder are being purchased by the District. Magic Leap will also provide teachers with professional development for incorporating the devices into their instruction, as well as offer mentorship opportunities for high school students and outreach events.
The Magic Leap One devices may look like sunglasses but are powerful computers that allow users to experience their own virtual worlds in combination with the real world. For teachers, the possibilities are endless, such as bringing dinosaurs to life, immersing students in art and music, virtually flying next to an astronaut, taking a virtual field trip for whale watching, and much more, all without leaving the classroom.
"We are excited and grateful for our new relationship with Magic Leap and the Florida Panthers Foundation. It provides our students with opportunities to learn and work with cutting-edge technology," said Superintendent Robert W. Runcie. "We're bringing the future into the classroom to inspire and engage our students. It's through the support of our local businesses and organizations that we are able to continually innovate and provide our students with world-class educational experiences."
For more information, contact Dr. Lisa Milenkovic, STEM+Computer Science Supervisor, Applied Learning Department, at 754-321-2623