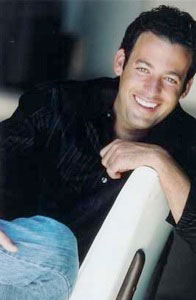 MIAMI, FL - Dave Aizer, one of South Florida's most recognizable television personalities, is passing the torch of knowledge and experience to tomorrow's aspiring broadcast hosts with the launch of the Dave Aizer Broadcasting Academy. Launching in September 2015, the Dave Aizer Broadcasting Academy will offer middle school, high school, college and adult students the opportunity to participate in two 5-hour day courses over a weekend and a one-day Junior Academy session.
Aizer is an Emmy-nominated and ProMax Gold Medal Award wining television host, producer and writer. Currently, viewers can enjoy watching Dave on WSFL-TV, South Florida's CW affiliate, where he hosts programs including the weekly talk show "Inside Florida" and hosted the relationship show "Get Some," which was honored by Broadcasting & Cable Magazine and nominated for a regional EMMY award.
A proud graduate of the University of Miami, Aizer has also worked in New York City as a a writer for TruTV, and hosted shows for Spike TV, The Onion News Network and WE. Dave also was the online host for American Idol's website, when he lived in Los Angeles. Budding broadcasters and Nickelodeon fans may also recognize Aizer from his hosting gigs on "Slime Time Live," "Nickelodeon GAS" and "Robot Wars."
During the two-day Dave Aizer Broadcasting Academy courses, students will learn multiple aspects of on-camera broadcasting, including interviewing, hosting and co-hosting, stand-ups, mastering the teleprompter, establishing an online/ social media presence, overcoming weaknesses, going "live" and most importantly discovering their "on-air" personality.
Located at Nadine Shapiro's Broadway Bound Studios in Coral Springs, upcoming sessions include the following:
Adult Academy (high school, college & beyond)
September 26th –27th
11:00 – 4:00 pm
Adult Academy (high school, college & beyond)
November 14th – 15th
11:00 – 4:00 pm
Junior Academy (middle school students)
October 24th (one day)
11:00 – 4:00 pm
The total weekend cost for the Adult Academy is $450.00 ($500.00 if you split it into two payments).The total cost for the one day Junior Academy is $250.00 and must be paid in one payment. Lunch is included daily in all these sessions as is a written evaluation and a digital copy of performance. Class sizes are limited. Please visit www.daveaizer.com to register. Please note that class sizes are limited.
About Dave Aizer
Dave Aizer is an EMMY nominated and ProMax Gold Medal Award winning television host, producer and writer. Currently, he serves in all three capacities for WSFL-TV, South Florida's CW affiliate. Dave creates content for and hosts a weekly talk show – "Inside South Florida" – and provides local news coverage throughout each day. For more information, please visit www.daveaizer.com or email dave@daveaizer.com