DAVIE, Fla. – Young At Art Museum celebrates its 10th year of providing a comic con focused on teens and their creative works during the 10th-Annual Young At Art Teen Comic Convention on Friday, July 15, from 10 a.m. to 6 p.m. at the museum, located at 751 S.W. 121 Ave. in Davie. During the convention, illustrations, video graphics, superheroes and original characters will take center stage as local South Florida teen artists and tweens will display and sell their colorful cartoon artwork.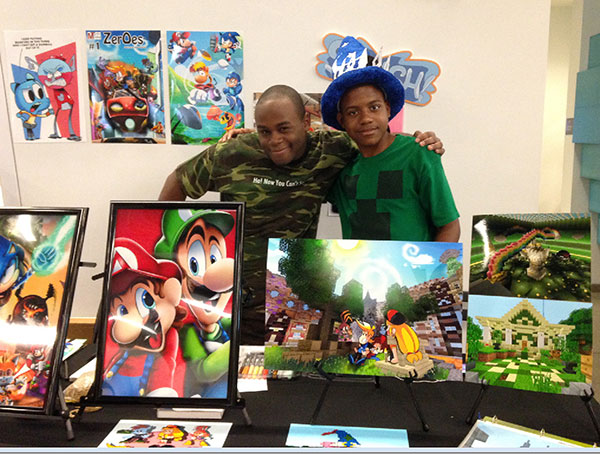 Brothers Arion and Dmari Rashad Pembroke Pines at 2015 Comic Con
"We are extremely proud that this is our 10th year for this event, especially since it's the only teen Comic Con in South Florida," said Marie Berlin, YAA Institute manager and event coordinator for YAA's Teen Comic Convention. "Ten years ago, we started with a few teens, but this event has grown to include teen artists from all over South Florida who showcase and sell their works, all dedicated to the art of comics. A favorite with the community, we draw crowds of more than 400 to share in a day devoted to the craft."
Event activities for the entire family include:
Teen Comic Artists Showcasing and Selling Artwork, 10 a.m. to 4 p.m. Come support young, art entrepreneurs as teens, ages 13-18, who will showcase and sell their artistic creations, and have their work judged by local artists and comic professionals.
Video Gaming Stations throughout the Museum, Sponsored by PartyGameTime.com
Includes: "Super Smash Brothers" projected on the large screen in our ArtScapes Gallery, "Infinity Star Wars/ Marvel" on the PS4, "Marvel Legos," "Mario Kart 10" and a blast from the past with "Atari 2600"
Center Stage

Demonstrations, contests and art throughout the day
Digital film screenings written and produced by CampYAA digital art & film campers

Quick Draw Contest, 11 a.m. to noon
Three age categories: elementary, middle and high school; prizes for the winners
Come dressed as your favorite comic, anime or action hero (G-rated costumes and no full facemasks, please). Guests who wear costumes will receive $4 off admission.
Cartooning Demonstration by Marcos Rivera, 1:30 to 2 p.m.
Comic Vendor Stations including Tate's Comics, BTL Collectibles Show, Comix Zomby and more
Comic ArtStations throughout the museum
Admission to the Teen Comic Convention is included with admission to Young At Art
Museum: $14 per person; $12 for Broward County residents, seniors and children over age 1; and $11 for military members and their immediate families. Come in costume and receive a $4 admission discount! For more information, call 954-424-0085. Guests who wear costumes (G-rated costumes and no full facemasks, please) will receive $4 off admission.