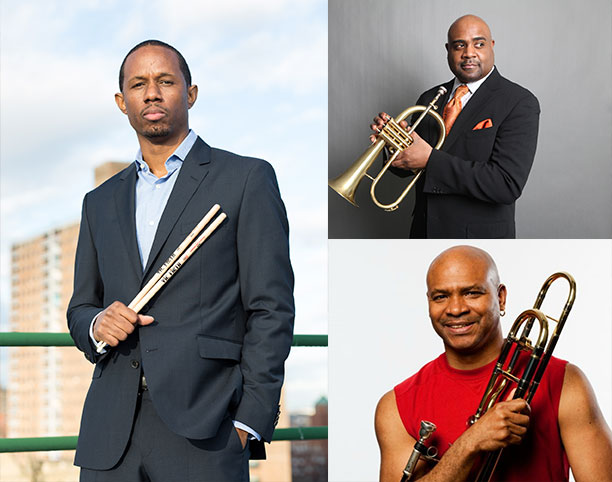 Fort Lauderdale, FL – Tradition…Innovation…Creativity
On Wednesday, February 14, bring your sweetie to hear some Valentine's jazz. The Gold Coast Jazz Society's jazz series will be featuring five world-renowned musicians all in one place! Jazz drummer, Willie Jones III, is bringing his all-star group of friends to perform Love Songs and Lovers…the Ones You Have Forgotten. The concert takes place at the Amaturo Theater of the Broward Center for the Performing Arts, 201 SW 5th Avenue in Fort Lauderdale at 7:45pm. Single tickets are available for $55 per person. Students and teacher tickets are $10 with valid ID. To purchase single tickets, call the Broward Center AutoNation Box Office at 954-462-0222, or go online to www.browardcenter.org

This Valentine's inspired performance includes jazzy arrangements of love songs and jazz favorites with Willie Jones on drums, and his all-stars Terrell Stafford on trumpet, Robin Eubanks on trombone, Ralph Moore on sax, Eric Reed on piano, and Gerald Cannon on bass.
Ever since 1997, when he moved to New York City from his hometown of Los Angeles, Willie Jones III has been one of the jazz capital's most prominent drummers. Whether functioning as a savvy bandleader or high-profile sideman, Jones applies to every context an abiding musicality and a tonal personality that, as Wynton Marsalis puts it, is "ever tasteful." His "West Coast swagger" gives Jones's playing a "looseness that isn't lackadaisical and an edge that isn't overwhelming" says fellow band member Eric Reed.

"I still follow Billy Higgins' model," Jones says. "I'm always trying to support whoever I'm working with to make the music sound as good as possible. I have a good balance. I'll continue to evolve as a leader, but I'll always play as a sideman—I still love learning and playing other people's music." For more information about this artist go to http://www.williejones3.com
For more information about the 2017-2018 Jazz Concert Series, go to www.goldcoastjazz.org. The Gold Coast Jazz Society is a not-for-profit organization that is dedicated to the preservation and promotion of jazz music through a mainstage concert series, free community concerts, educational programs, a jazz scholarship program and musical services provided by the Gold Coast Jazz Society Band.
Funding for this organization is provided in part by the Broward County Board of County Commissioners as recommended by the Broward Cultural Council, the State of Florida, Department of State, Division of Cultural Affairs and the Florida Council on Arts and Culture and is supported by Funding Arts Broward, supporting innovative local visual and performing arts in Broward County.

Concert Series sponsors include American National Bank, Morgan Stanley, and the Mary Porter Fund of the Community Foundation of Broward. Sponsored in part by the State of Florida, Department of State, Division of Cultural Affairs and the Florida Council on Arts and Culture.