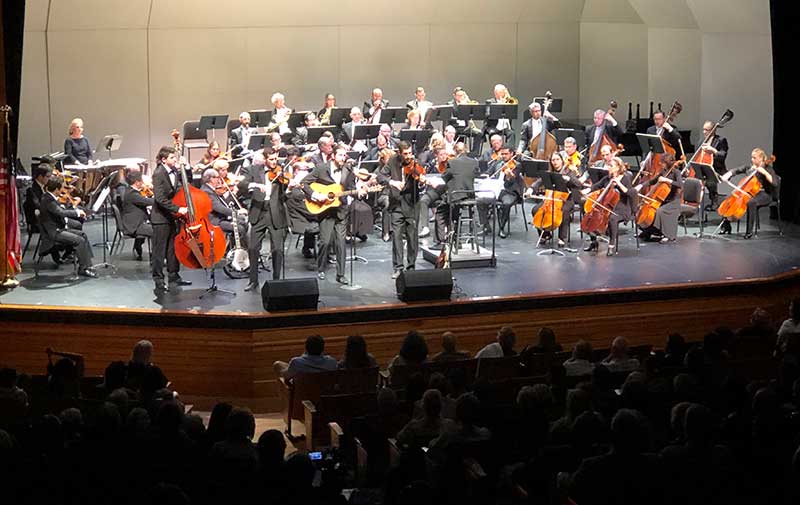 The Symphony of the Americas marked the 250th anniversary of the birth of Ludwig van Beethoven on March 10 with a unique program featuring The Lubben Brothers, a group equally adept at performing the music of the titan from Bonn and bluegrass in the Americana tradition.
Maestro James Brooks-Bruzzese opened the evening with Beethoven's dramatic Coriolan Overture, a reading marked by crisp articulation and nobility of line. The triumphant concluding movement of the iconic Symphony No. 5 in C minor resounded forcefully. Brooks-Bruzzese's taut pacing and the precision of the ensemble's strings and firm and resonant brass brought full force to this mighty symphonic vista.
The Lubben Brothers are a folk-acoustic group of exceptional talent and versatility. Playing banjo, guitar, and mandolin, Michael, Torn and Joshua Lubben were joined by their younger brother Isaac on double bass. Fly Away: Three Pieces for Folk Band by Joshua and Michael Lubben illustrated their terrific skill as singer-songwriters. Their opener Smile Again, released as a single in July 2019, was a rouser that combined great harmonics with pure folk roots and was greeted by cheers from the audience. Deftly accompanied by Brooks-Bruzzese and the orchestra's strings, The Charleston Massacre was a deeply powerful call to conscience in the great tradition of the protest songs of Woody Guthrie. Adding a harmonica to the instrumental mix underscored the poignancy of the material. With fleet incisiveness and a hefty fiddle vibrato, Fly Away (from The Lubben Brothers' original musical The Luck of Roaring Camp) was an old fashioned Irish tinged jig marked by rousing vocals and swift instrumental collaboration. A prolonged ovation greeted the Lubbens' song set.
Following intermission, Michael, Torn and Joshua Lubben returned to the stage and switched gears to play Beethoven's Triple Concerto for violin, cello, and piano in C Major. Classically trained, these multi-talented musicians brought vigor and depth of feeling to this infrequently performed opus. Brooks-Bruzzese's steady tempo in the introduction and strong sense of forward motion built the orchestral crescendo in gradual layers. The Lubben Brothers' blended their instrumental timbres with striking clarity and the warmth and lyricism of the Largo were potently evoked. Beethoven's final Rondo alla polacca is a polonaise. Here the Lubbens and the orchestra brought just the right mix of impulsive vigor and charm to this singular creation. In this concertante work, Beethoven sought not to storm the heavens but to entertain with richly melodic writing. As the final chords were struck, the audience burst into a standing ovation.
The Lubben Brothers dedicated their encore of Harold Arlen's Over the Rainbow to their Russian trained, Coral Springs-based teacher, Dr. Leana Strauss. Their mellifluous rendition proved that they are equally gifted in playing classic American songs as bluegrass and symphonic masterworks.