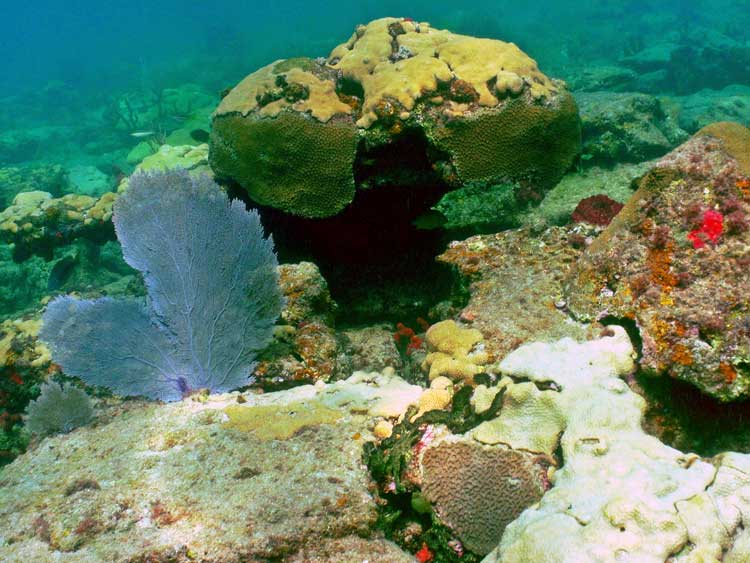 Coral Reef Lauderdale by the Sea, Florida - Photo Credit: PMC 1stPix's Photostream
LAUDERDALE-BY-THE-SEA -- Lauderdale-By-The-Sea is well known for its wide, sandy beaches and clear blue-green waters, as well as restaurants, hotels and shops What many people don't realize is that it's also recognized as "The Shore Dive Capital of South Florida."
The reason for the name is due to a series of live reefs just off shore and easily accessible with a beach dive. The closest reef is within about 100 yards of shore. Local divers claim the Honeycomb Reef system is closer here than anywhere in South Florida.
"One pier length is as far out as you have to swim to be on top of the reef, which is 8-12 feet deep making it ideal for both snorkeling and diving," says Brian Gagas, owner of Gold Coast Scuba. "Beach access is extremely easy and there are actually three reef systems that divers can swim to, separated by about 150 yards."
"The reef system is set up like a beginner reef closest in, then an intermediate reef, followed by a third reef best suited for advanced divers because it requires a swim of 30 minutes or more," adds Gagas. "Divers must remember to stay at least 300 feet from Anglin's Fishing Pier and use dive flags."
You can expect to see octopus, sea turtles, eels, stingrays, tarpon, nurse sharks, and various species of tropical fish, as well as different types of coral, like Brain and Sea Fan Coral. One of the main dive attractions is the wreckage from the SS Copenhagen on the north side of the pier. There is a Snorkel Trail lined by replica cannons on the south side of the pier.
To maintain and enhance the coral reef system Lauderdale-By-The-Sea has embarked on a first of its kind project in the United States – the Biorock Project. The pilot project, which started in September of 2011, is located south of the pier and will make this town the leader in coral reef restoration in Florida.
"The ingenious Biorock process mimics the natural growth of coral reefs and was invented by pioneering architect Wolf Hilbertz in the late 1970s as a way of growing natural building materials in the sea," says Marc Furth, owner of the Blue Seas Hotel and former LBTS Commissioner. "Dr. Thomas Goreau, a coral reef specialist, oversees the Lauderdale-By-The-Sea project. He has built hundreds of coral reef and oyster reef projects in more than 20 countries."
Furth notes there is no timetable for success for Biorock due to the innovative nature of the undertaking, but expectations are high since corals on these structures grow two to six times faster than normal.
To celebrate the reef system and mini lobster season, Lauderdale-By-The-Sea is holding BugFest-By-The-Sea 2012 July 24-28. The event will offer divers special rates for hotels and restaurants and an assortment of special activities, seminars and contests.
"BugFest will have a Great Bug Hunter Contest with a top prize of $500, a lobster bake in El Prado Park with a steel drum band, an underwater photo contest and Iron Man Lobster Competition," says Gagas. "There will also be a beach diving clinic, lobster hunting workshop and wreck dive trips."
With the help of local dive enthusiasts, the Biorock Project and BugFest 2012, Lauderdale-By-The-Sea continues to embrace and enhance its reputation as the Shore Dive Capital of South Florida.
{igallery id="4670" cid="26" pid="1" type="classic" children="1" showmenu="1" tags="" limit="0"}