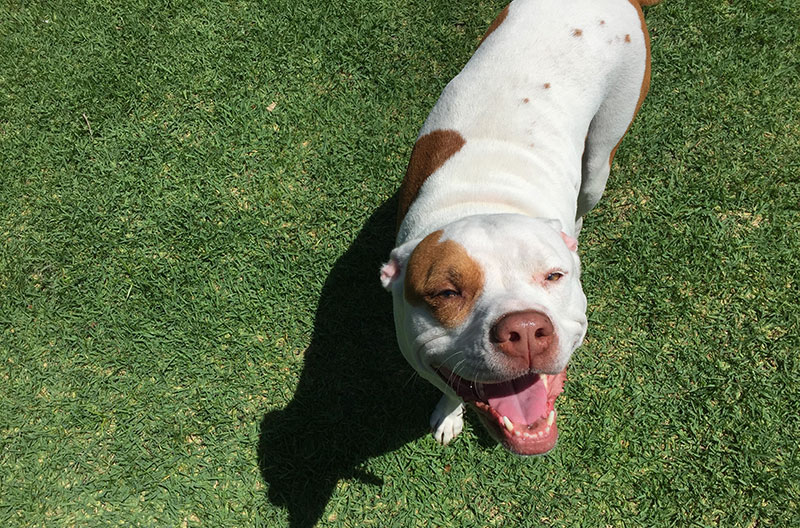 Fort Lauderdale, FL -- The Dolly's Dream Project was created in 2015 to help dispel the myths of bully breed dogs. The Boca Raton based foundation currently works with the Humane Society of Broward County (HSBC) in Fort Lauderdale, Peggy Adams Animal Rescue League in West Palm Beach and Furry Friends in Jupiter.
Sadly American Staffordshire terriers, American bulldogs, bull terriers, and mixes of these breeds are prevalent in shelters across the country. To reduce the number of these dogs being born and entering shelters, the Dolly's Dream project offers free spay or neuter for bully breeds residing in Broward and Palm Beach Counties. Since the program began in 2015, 328 dogs have been sterilized at the HSBC and 147 dogs have been sterilized at Peggy Adams.
In March 2016, another facet was created to help the bully breed dogs in these shelters find homes. Dolly's Dream now underwrites the adoption fee and extensive supplies including a training crate, walking harness, collar, lead, ID tag, and appropriate chew toys for select dogs. In addition, the program will even cover the cost of obedience classes at the shelters for those adopted dogs. Since this exciting element has been added, 34 dogs have been placed.
In addition to spay/neuter and adoptions, the Dolly's Dream program provides a rescue stipend for bully breed dogs that are taken by reputable rescue organizations from Palm Beach County Animal Control. To date 50 dogs have been rescued as a result. The stipend helps cover the cost of food, veterinary care and other supplies. At the HSBC, 681 bully breed dogs have been helped through surrender prevention efforts thanks to Dolly's Dream. This includes vaccines, wound care, food assistance, x-rays, behavior assistance information, bloodwork and orthopedic surgery for several dogs that were transferred from Broward County Animal Care and Adoptions to the HSBC for care.
Daniella Jordan, Director of the Dolly's Dream Project is thrilled with success of the adoption program. "This element of the program will hopefully allow potential adopters the opportunity to see what wonderful dogs they are. Each week two Dolly's Dream Dogs are featured at each of the participating shelters. These are dogs that may have been surrendered by their families or are transfers from animal control facilities. The one thing all the dogs have in common is that they all need a loving family."
Dolly's Dream hopes to expand and work with other reputable shelters to help these often misunderstood dogs.
---
Dolly's Dream: It is our goal to bring communities together by leadership, education, community involvement, awareness and rescue of pit bull type dogs. Dolly is the first pit bull our president rescued. With Dolly, he was able to learn about this amazing breed and all the love they have to offer. This is the dog that dispelled all myths and taught him the importance of adoption. Because of Dolly we strive to continue to save dogs like her. Dolly's Dream was created to rescue, rehome, and one day help restore the image of all bully breed type dogs. We partner with local rescue, shelters and humane societies to fulfill our commitment to these innocent and loving animals.
Humane Society of Broward County provides shelter, aid and responsible adoptions to the animals entrusted to its care, and educates the community about respect and kindness to all animals. The HSBC is a private, non-profit organization that is not affiliated with any local or national organization with a similar name. Visit www.humanebroward.com or call 954-989-3977 to learn more.
Peggy Adams Animal Rescue League: The Mission of the Peggy Adams Animal Rescue League of the Palm Beaches, Incorporated is to provide shelter to lost, homeless and unwanted animals, to provide spay and neuter and other medical services for companion animals, and to care for, protect, and find quality homes for homeless and neglected companion animals, to advocate animal welfare, community involvement and education to further the bond between people and animals. For more information, visit www.PeggyAdams.org or call 561.686.3663.
The League is an independent nonprofit animal rescue organization operating continuously since 1925.