For anyone who's had his or her heart broken, it takes time to move on. Some are able to move on in a few days. Others may take months, or even years, to get over a truly devastating loss. For Melove, a 5-year-old Kelpie mix, recovery has taken over 14 months.
Sweet Melove was given up by her past owner back in December 2016. Heartbroken and scared, she was unable to trust people – hiding in the back of her kennel, fearful of any human interaction. The staff and volunteers here at the Humane Society of Broward County knew that Melove would require extra time and attention to help her become the wonderful family pet we knew she could be. So, she was placed into one of our foster care programs.
But, even living in a loving, caring home proved to be a challenge. Melove cowered and trembled around strangers, and she would not take treats from anyone other than her foster family. But even they were not able to pet or play with her. Because of her distrust of humans, prospects of finding her forever family were not looking great for this sad soul.

But then, after 11 months in foster care, Pinto came into her life.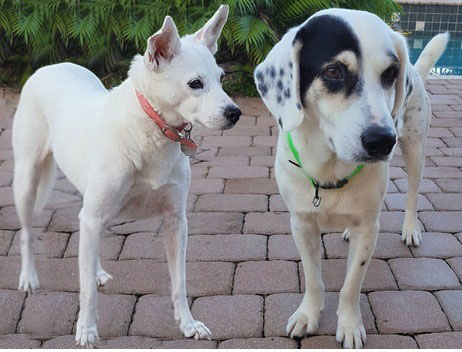 The HSBC thought that bringing a gentle, calm dog into the home to model what human/dog relationships should be like might help Melove... and the results were more than we could have hoped for! Melove and Pinto became buddies, and when Melove saw Pinto interacting with visitors without fear, she started approaching people.
Although Melove still has anxiety around strangers, within a few short weeks, she had begun letting strangers pet her, even taking treats from their hands! It is truly a revelation.
It is this kind of individualized, out-of-the-box thinking that has earned the Humane Society of Broward County the title of one of the top, most-innovative animal welfare organizations in the country. While some organizations may have given up on Melove, writing her off as a "lost cause," the staff and volunteers have stuck with her all this time, continually thinking of new ways to help this girl live the happy and healthy life any dog deserves.

The Humane Society of Broward County is an invaluable resource to the homeless pets in our community. Your support saves their lives.
We hope you will continue to support us by making a small donation to our largest fundraiser of the year – the Walk for the Animals. During this event, which will take place on March 3, we'll be joined by over 5,000 animal-lovers, like you, to celebrate the life-saving adoptions, medical services, and education programs we provide to the people and animals of our community.