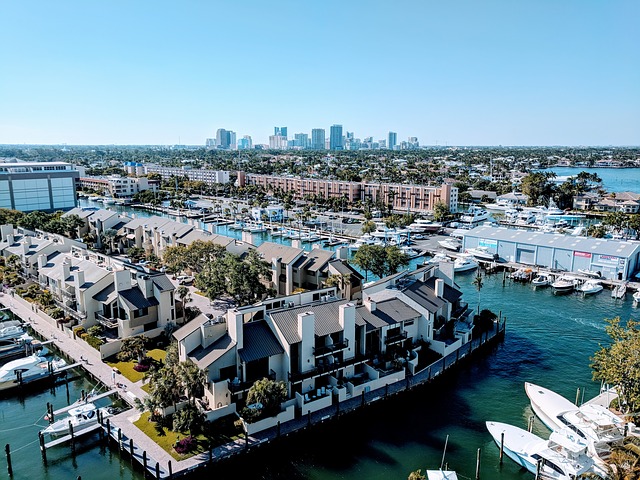 Are you thinking about relocating to Fort Lauderdale? Really, that would be quite a fine move - this place is home to one of the nicest local communities in all of Florida. If you want to live in an area that can foster any kind of lifestyle you may want to lead, this is a great town! Regardless of where you're moving, though - there are a couple of things you'll want to know. Which is why we've got all the info on moving to Fort Lauderdale you could possibly need!
A Booming Real Estate Market
No matter where you choose to move, let's face it - having enough residential real estate options is important. For one, that means you'll have your pick when it comes to living arrangements. But perhaps even more importantly - a strong real estate market is a good indicator of a healthy local economy. With all of that in mind, though - is moving to Fort Lauderdale a good idea?
As you'll soon see for yourself - Fort Lauderdale is actually home to a constantly developing real estate market. For decades, the local real estate scene was basically overshadowed by the Miami market. But in recent years, the skyrocketing Miami prices have led to much more development in Fort Lauderdale. And that's not just true of residential real estate. If you're planning on moving your business with you, know that you'll find no shortage of office space downtown! And for those who can afford it - luxury beachfront condos are all the rage these days.
The Local Tourism Industry
Let's be realistic - while we'd all like to live in a nice area, there are also many practical factors to take into account while choosing a location. For example - what's the local job market like? Obviously, before you ask for professional moving assistance in Fort Lauderdale, you need to be certain that your career of choice is well-represented there. So, what options do you have around here?
You'll be happy to learn that moving to Fort Lauderdale means having access to one of the best local tourism industries in Florida. And not only that - the city's economy is also diversified enough so that everyone could find a job. There's a wide range of other industries that can facilitate well-paying jobs. For example, human resource managers and web developers can hope for quite a respectable salary in Fort Lauderdale. And also, anyone working in the service sector shouldn't have issues finding work around here.
Finding the Best Neighborhoods
Realistically speaking, if you want to pick a good location to live in, simply choosing the right city isn't enough. Apart from that, you also need to make sure that you're living in the best possible neighborhood. And that goes double if you're aspiring towards homeownership instead of renting. Investing in real estate is no small feat. So, you want to be certain that you're making the right choice of the area after moving to Fort Lauderdale. With that in mind, we've got a few local neighborhoods to recommend!
Colee Hammock
If you're looking for a good area in downtown Fort Lauderdale - Colee Hammock is a safe bet! We're talking about one of the oldest neighborhoods in the city - but also one of the coolest! For those looking for historically restored homes, you'll find some beautiful pieces of real estate around here. Plus, the real estate market in the area is well diversified, with both bungalows and condos available. And if you're wondering about the available amenities, you'll find plenty of interesting restaurants around here, as well as some top-notch public schools.
Tarpon River
On the other hand, you may be more interested in a more practical area, one with more of a working-class aesthetic and vibe? In that case, Tarpon River will be a perfect fit for you! First of all, the area is close to the water and parks, for those who love outdoor fun, and also practical amenities like shopping centers and supermarkets.
Victoria Park
Before 1980s, Victoria Park wasn't an area that had received nearly enough attention. And while those days when you could get a home here cheaply are long gone, people have been flocking to this neighborhood more and more in the past few decades. Right now, we're talking about an upper-middle-class area with a very close-knit community and plenty of luxury homes. This upscale area has plenty of outdoor trails for joggers, as well as amenities for water-based athletes.
Enjoying a Day at the Beach
At the end of the day, not everyone is into sports when it comes to outdoor activities. And if you're thinking of moving to Fort Lauderdale, know that you'll have the chance to relax outside as well. In fact, one of the reasons people move to Fort Lauderdale are the beautiful beaches. After all, once you're done with your workweek, you may just want to settle down and watch the sunset or go for a relaxing swim in the ocean.
If that is indeed so - you've come to the right place! Living in Fort Lauderdale means having access to some relaxing outdoors activities as well. You should know that Fort Lauderdale is home to some of the most beautiful beaches in all of Florida! So, what are you waiting for? There's no better way to relax with your family than just shutting off everything, packing your swimwear and heading to