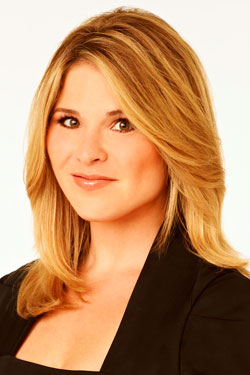 Hager Jenna. BOCA RATON, FL. – The Crohn's & Colitis Foundation of America is proud to announce their 23rd annual Book of Hope Luncheon will take place on March 11, 2013. The event, which begins at 10:30 a.m., will take place at the Boca Raton Resort & Club and will feature a silent auction of more than one hundred fabulous items including hotel stays, luxurious vacation packages, jewelry, restaurant and spa gift certificates and more!
Keynote speaker of the event is contributing correspondent on NBC's Today Show, author, and chair of UNICEF's Next Generation, Jenna Bush Hager. Hager will bring her fresh voice and positive message to South Florida sharing how small change, and even a small gesture, can make a profound impact in a single life.
"Jenna is an inspiration to all who strive to do good for those in less fortunate situations," said Amy Gray, executive director of the Crohn's & Colitis Foundation of America's Florida Chapter. "We are incredibly excited to have her join us for our Book of Hope luncheon to share what motivates her to make a difference each day."
Hager is the author of Ana's Story: A Journey of Hope, a New York Times bestseller based on the life of a 17-year-old single mother determined to give her child a better life than she had. She is also co-author of Read All About It in which she wrote with her mother former first lady, Laura Bush.
Honorees for the Book of Hope Luncheon are Kevin Dineen, head coach of the Florida Panthers, and his wife Annie. As the head coach of the Florida Panthers hockey team, Kevin Dineen led the team to the first Southeast Division title in his first season. He has long chronicled his struggle with Crohn's disease. Not letting it overtake his life, he has managed to have a successful career on and off the ice including another coaching stint with the Portland Pirates, and his career playing for NHL teams in Hartford, Philadelphia, Carolina, Ottawa, and Columbus. Additionally, Dineen appeared in two NHL All-Star games, was named the 1990-91 NHL Man-of-the-Year, and was a three-time finalist for the Bill Masterton Memorial Trophy.
Kevin and his wife, Annie, Parkland residents, are the parents of two daughters, Hannah and Emma and two sons, William and Declan. He is the son of former NHL player & head coach Bill Dineen and a brother of former NHL players Gord and Peter. His other brothers, Shawn and Jerry, were minor league players and currently work in the NHL.
All proceeds from the Book of Hope Luncheon will support CCFA's efforts in finding a cure for Crohn's disease, ulcerative colitis, and inflammatory bowel disease. More than 1.4 million Americans are living with Crohn's disease and /or ulcerative colitis, collectively known as inflammatory bowel disease (IBD). The event will help make a difference in the lives of those affected by these diseases by raising money for research, educational programs, and support services to help cope with these chronic, painful and often debilitating digestive diseases.
Co-chairs for the event are Dana Konhauzer and Bonnie Scharf. Tickets are $125 per person. For more information on how you can attend, or for sponsorship opportunities, please call 561-218-2929 or visit www.ccfa.org.
About Crohn's Disease and Ulcerative Colitis
Crohn's disease and ulcerative colitis are painful, medically incurable illnesses that attack the digestive system. Crohn's disease may attack anywhere from the mouth to the anus, while ulcerative colitis inflames only the large intestine (colon). Symptoms may include abdominal pain, persistent diarrhea, rectal bleeding, fever and weight loss. Many patients require hospitalization and surgery. These illnesses can cause severe complications, including colon cancer in patients with long-term disease. Some 1.4 million American adults and children suffer from Crohn's disease or ulcerative colitis, with as many as 150,000 under the age of 18. Most people develop the diseases between the ages of 15 and 35.
About the Crohn's & Colitis Foundation of America
The Crohn's & Colitis Foundation of America's mission is to cure Crohn's disease and ulcerative colitis, and to improve the quality of life of children and adults affected by these diseases. The Foundation ranks third among leading health non-profits in the percentage of expense devoted to research toward a cure, with more than 79 cents of every dollar the Foundation spends goes to mission-critical programs. The Foundation consistently meets the standards of organizations that monitor charities, including the Better Business Bureau's Wise Giving Alliance (give.org) and the American Institute of Philanthropy ( www.charitywatch.org ). For more information, contact the Foundation at 800-932-2423 or visit www.ccfa.org.