FORT LAUDERDALE, FL -- This was the 8th year for PAWS to celebrate spring with its annual Tea in the Garden event, held in March at the lovely waterfront home of Marlene and Manny Aguero. Chairs Jamie Stiles and Michelle Russo-Matak gave the tea a "Spring Sip" theme, and welcomed Honorary Chair Marti Huizenga and Honorary Hostess Marlene Aguero. Everyone was thrilled to learn that over $25,000 was raised for the animals at the Humane Society of Broward County.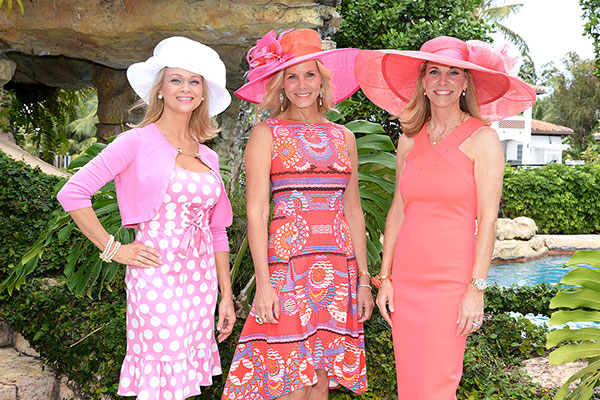 Michelle Russo Matak Marlene Aguero Jamie Stiles
Adoptable pets greeted guests as they arrived during the cocktail hour. While mingling and sipping there was time to have a personal sketch done and to purchase a drawing ticket for the chance to win the VIP Cottontail Table. VIP benefits included a special memento and favor bag for each guest at the table, an upgraded menu and a beautiful centerpiece which the winner could take home. Kristin Gundlach won the VIP Cottontail upgrade for her table.
Attendees enjoyed delicious tea sandwiches, scones and delectable desserts while listening to the tunes of guitarist Michael Corbin. The traditional Best Hat award went to the delightfully bedecked Leslie Fischer. As guests left they were invited to stop by the jelly bean bar for a sweet treat and to receive a photo memento.
Sponsors and underwriters for Tea in the Garden included: Scruffy and Daisy Huizenga, Lorraine Thomas, Jamie and Terry Stiles, Shooters Waterfront & Events by Grateful Palate, ACURE Organics, Christy and Andy Gumberg, Marlene and Manny Aguero, Dawn and Peter Dellapina, Madd Hatters (Sally Shiff, Sara Sears, Leslie Fischer, Cherie Marshall, Doreen Outler, Melody Saleh, Ronni Ostrander, Jan Joyce), Annette and David Yarborough, The Golden Belles (Mary Kazares, June Miller, Jonelle Lees, Elaine Johnson, Lucy Weber, Suzie Smith, Tari Collins, Sylvia Sperry), Cups for Pups (Michelle Gumbel, Lara Swirbel), Nathan Detroit and Sophie Grevior, Isabel and Jim Allen, Rick Case Automotive, BreakThru Beverage Florida, Zonin, Michelle Russo-Matak, Margaret Meldeau, Joan Koether, and Ingrid Poulin.
The Humane Society of Broward County is a private non-profit organization made possible by the generous donations of animal enthusiasts like you. The shelter is not affiliated with any other organization and receives no funding from state or any national group. To learn more about the HSBC visit www.humanebroward.com or call 954-989-3977.