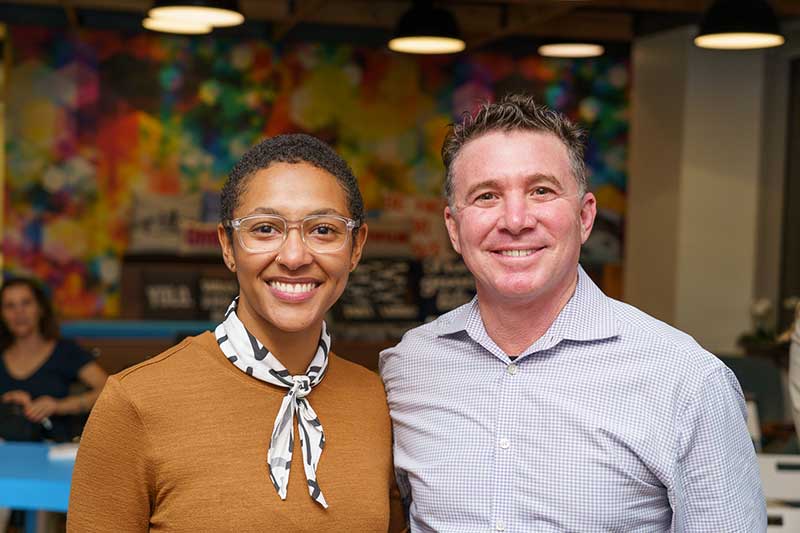 Artist Stephanie Melissa Dorsainvil; Brian Kopelowitz, Esq., Kopelowitz, Ostrow, Ferguson, Weiselberg, Gilbert and Business for the Arts of Broward board chair
FORT LAUDERDALE, Fla. – Business for the Arts of Broward (BFA) kicked off its 2020 Arts Mean Business Speaker Series with a presentation from South Florida-based visual artist Stephanie Melissa Dorsainvil hosted and sponsored by Pipeline in partnership with Twenty6North Productions.
A first-generation Haitian-American raised in South Florida, Dorsainvil talked about how she has created her own visual language, which is represented in her paintings as primitive symbols that represent diversity and unity. The fascination of transforming a blank canvas into something unique grew with her and, by following her own artistic intuition with physical material, Dorsainvil developed a signature style. She has painted more than 20 commissioned murals, participated in several live paintings, and her work has been shown in countless art shows throughout South Florida.
About Business for the Arts of Broward
Business for the Arts of Broward is a not-for-profit 501(c)(3) engaging businesses and business leaders to advocate and educate about the importance of the County's art and cultural community as well as to recognize the connection between cultural vitality, creative success, and economic development. To learn more visit www.Facebook.com/BFABroward or www.bfabroward.org