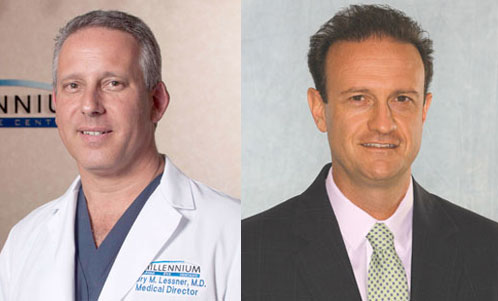 Cory M. Lessner, M.D., CEO and Founder of Millennium Laser Eye Centers and Andrew Shatz, M.D., Medical Director of SightTrust Eye Institute in Sunrise, Fl.
SUNRISE, FL (June 4, 2012) -- Cory M. Lessner, M.D., CEO and Founder of Millennium Laser Eye Centers and Andrew Shatz, M.D., Medical Director of SightTrust Eye Institute in Sunrise, FL, have become the first eye surgeons in South Florida and among the first in the nation to offer all-bladeless laser vision correction and cataract surgeries. The first-of-their-kind advanced laser vision correction (LASIK) and cataract surgery lasers allow the two surgeons to perform all steps of both LASIK and cataract surgery with the precision that only laser surgery can provide.

" The Allegretto® EX500 – the first in the nation – is 25% faster than the laser it replaces, and gently sculpts the cornea with amazing speed in order to more accurately correct nearsightedness, farsightedness and astigmatism." notes Dr. Lessner. "The Wavelight® FS200 femtosecond laser is the quickest flap-making laser, shortening procedure times to about 15 seconds, and creating an even smoother treatment which should translate to further improvement in visual quality."

SightTrust Eye Institute, South Florida's premier cataract and refractive lens surgery center, is the one of the first in the country to offer surgery with the LenSx laser, which became FDA-approved for use in 2011. Contrary to popular belief, cataract surgery has never been performed with a laser – until now, mentions Dr. Shatz. "In a traditional cataract procedure, the surgeon uses a diamond or steel knife to create incisions into the eye, following which ultrasound vibrations break the cataract into small pieces that are then removed," he says. "The LenSx® cataract laser, on the other hand, uses light to create ultra-precise corneal incisions, including those that correct astigmatism. Additionally, the laser gently divides the cataract into microscopic fragments that can be removed with virtually no ultrasound energy. This has been shown to decrease swelling and speed up visual recovery after surgery." The LenSx laser promises to provide more predictable and accurate results than traditional surgery, which should increase the likelihood of patients achieving their expected vision outcome.

Dr. Cory Lessner is the Medical Director and CEO of South Florida based Millennium Laser Eye Centers and the CEO of SightTrust. For more than a decade, Dr. Lessner and his staff have corrected the vision of tens of thousands of patients, lessening their dependence on corrective eyewear. With over 25,000 successful procedures to his credit, Dr. Lessner, a board-certified ophthalmologist, is considered to be one of the most skilled surgeons in his discipline. His practice has been exclusive to laser correction surgery and LASIK for the past 20 years. Dr. Lessner's skill as a surgeon and his commitment to forward thinking has propelled him to become the official LASIK provider to all South Florida professional sports teams - the Miami Dolphins, Florida Panthers, Florida Marlins and Miami Heat, as well as many VIP's in business and entertainment. LASIK, refers to the process of reshaping the clear visual cover of the eye, known as the cornea, through the use of a laser. LASIK surgery today can effectively and accurately correct forms of vision blur, including nearsightedness, farsightedness, reading and astigmatism. For more information on Laser Vision Correction, please call 1-888-93-LASIK (52745) or 954-835-0800, or visit www.havelasik.com.

Andrew C. Shatz, M.D., is Medical Director of the SightTrust Eye Institute. Dr. Shatz is a highly-respected, board-certified ophthalmologist with advanced training in topical, clear-corneal ("no-stitch") cataract surgery, refractive lens exchange, and phakic intraocular lens implant surgery. As a member of Alcon Laboratories speaker's board and with more than 12,000 intraocular procedures performed over the past ten years, he is believed to be the Southeast's leading implanter of the ReSTOR multifocal and Verisyse Phakic premium intraocular lenses. A national lecturer to both optometrists and ophthalmologists, Dr. Shatz sits on several clinical advisory panels. He often teaches his surgical techniques to other ophthalmologists in the country. His patients include many doctors and ophthalmic surgeons and he is frequently called upon by these colleagues to treat their most difficult cases.

SightTrust Eye Institute is South Florida's premiere cataract and refractive lens surgery center. SightTrust provides customized vision correction plans for patients with cataracts, nearsightedness, farsightedness and astigmatism, using the most advanced technology lens implants, including the ReSTOR, Tecnis Multifocal, Crystalens and Verisyse. Sight Trust Eye Institute is located at 1601 Sawgrass Corporate Parkway, Suite 430 in Sunrise, Florida. For more information, please call 1.877.878.7890 or visit www.sighttrust.com.