FORT LAUDERDALE, FL -- South Florida homeowners are in for a special treat this Memorial Dayweekend. The Fort Lauderdale Home Design and Remodeling Show will be at the Broward County Convention Center May 22-25, 2015, showcasing an unprecedented selection of products and services inspired and developed in South Florida, as well as providing attendees with new takeaways and opportunities to maximize their time at the show.
The Home Design and Remodeling Show has always prided itself on serving as a platform for the interior design community to demonstrate how professional interior design enhances one's living spaces, but this year's show is taking it a step further. The Florida South Chapter of the American Society of Interior Designers will offer complimentary 30-minute consultations for South Floridaresidents. Attendees are encouraged to register in advance for these limited sessions, as they will be on a first-come, first-serve availability basis.
Design experts will be on hand to offer free consultations to homeowners and condoowners. Local guest chefs will offer healthy recipes in live daily cooking shows at the Home Show.
This year's show offers a plethora of exhibits, presentations and stage events, including:
Chip Wade, host of the Emmy Award-wining 'Elbow Room' on HGTV, will be the featured celebrity speaker, offering hands-on, interactive seminars (Saturday and Sunday at 2:00pm and4:00pm).

Original room settings by several South Florida designers will be on display from Beth Geduld of Designs By Beth Geduld, Viviana Malave of VGM Decorators and Shelly Jaspan of YOLO Interiors.

The Broward County Extension Service Master Gardeners will be at the show offering gardening, landscaping and other hands-on tips to South Florida residents. (Friday-Sunday)

The show will feature an art exhibit titled "At Home with Art: Topographies" which aims to demonstrate the intrinsic connection between art and interior design while placing a special focus on showcasing works of Broward artists, includingNathlie Brenac (Broward Art Guild), Sylvain Denis (Sailboat Bend Artists Lofts), Beth Ravitz (Broward Cultural public art collection), photographer Andrew Urban, and Marlow Buelvas, metal artisan from Flagler Arts & Technology (FAT) Village.

A panel of real estate experts, moderated by Eric Willner of The Real Estate Show which can be heard on WSBR 740AM MoneyTalk Radio, will talk about hot trends and offer real estate advice (Memorial Day at 2:00pm).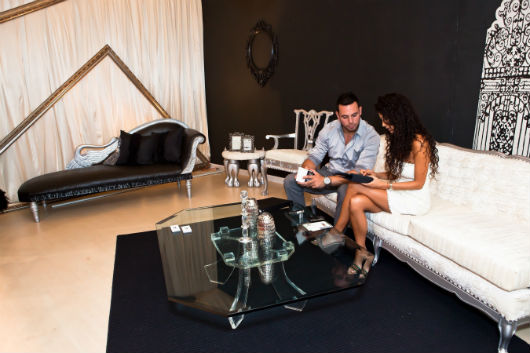 Design experts will be on hand to offer free consultations to homeowners and condoowners.
Show Hours: Friday, 5/22 -- 4:00pm – 9:30pm; Saturday, 5/23 -- 12:00pm – 9:30pm; Sunday, 5/24 -- 12:00 pm – 9:30pm; Monday, 5/25 (Memorial Day) --12:00pm – 7:30pm.