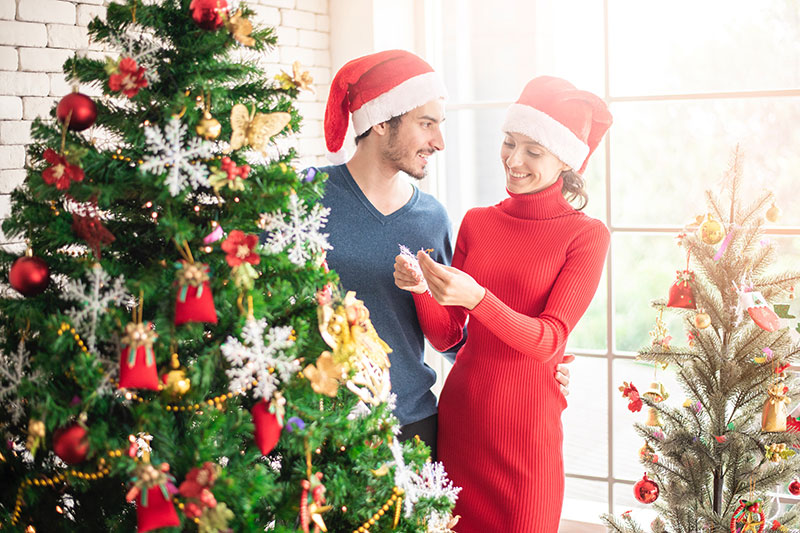 The holidays are coming. They are already lurking behind the corner. But this year, in a good way. Even though for some Christmas and New Year's holidays aren't as much fun as seen on television, there is always a way to make things better. Holidays don't need to be your worst nightmare. Not if you play it smart. And not if you are planning on spending your Christmas Eve in Florida. Keep on reading and make this year's holidays unforgettable!
No more anxiety
The main problem with Christmas Eve and Christmas is, well you have guessed it – anxiety. There is just so much propaganda on television, billboards, in stores… Actually, when the season comes – Christmas is everywhere around us. And that is something that doesn't sound so horrible, at first. However, seeing so many happy faces, families with super-excited kids, grandparents buying Christmas presents and everybody so cheerful – yes, it can be stressful. And the main reason for all that stress is people starting to ask questions such as ''Why am I not so happy?'', ''What's wrong with me?'' and similar. It is only natural. And it is something most of us do, so no shame in it. On the other hand, we all have jobs and responsibilities that can hold us down and stop us from really enjoying the holiday season. It is a cruel world out there, however, we can make things better.
Plan your finances in advance
And we mean really in advance. Spending Christmas Eve in Florida can get expensive. Christmas decorations, presents, food – it all costs a pretty penny. That is why you need to get ready, and on time. Saving some money before the Christmas season starts is actually the best thing you can do, besides planning your finances. Make a list of things you'd like to buy. Research the prices online. Look for discounts and try to play it smart. Christmas spirit and all these commercials can make us spend more money than we actually have, and that can only cause you some extra trouble.
On the other hand, getting ready for what's to come, planning your finances and really thinking everything through won't only save you some money along the way, it will also remove all that unnecessary anxiety.
Another thing to consider when buying Christmas decorations is your space. What will you do with all these decorations once the New Year's Eve passes? Christmas decorations can be stored for some time, however, that will add to your expenses list, so make sure you think it through before you go on your shopping spree.
Talk to your people
Christmas is all about spending some quality time with the people you love and care about. However, your friends, family and significant other also have plans. We all have something in our mind, and making things work for everybody isn't always as easy as it sounds. That is why you need to talk to the people close to you. Try to be flexible and to reach a compromising solution that will make everybody happy. And yes, making a compromise or two means that you won't get everything you have wished for, but, in the long run – you will be more than satisfied for making things work.
All this anxiety can sometimes bring out the worst in people, and that is something you'll want to avoid at all costs. And especially during the Christmas season. Remember, this holiday is about forgiving. Even though choosing the right place and fighting about it isn't something you'll have to forgive for on a larger scale, brace yourself. Things can get messy.
Christmas in Florida isn't a usual way to spend this holiday. There is no snow. But, when it comes to the Christmas spirit, festivities, and family activities – Florida has it all. And all you have to do is prepare yourself. Are you interested in visiting some restaurants? Spending your Christmas Eve on a beach for the first time? Or will you be staying with your parents this year? Explore your options and try to make the most out of it. Florida is a large state and has a lot to offer. All you have to do is know what you are looking for. Ask your friends for some advice – nobody knows you as they do. Maybe ask some of them to join you. Your partner will probably be joining you, so signing up for some activities for two might be a good thing to consider. And yes, whatever you are looking for, you will find it in Florida. This is an urban state that can provide you with everything and anything that comes to mind.
Being happy is a state of mind
You aren't miserable if you don't look like people in Christmas commercials. We all put our best faces for the outside world, and even though it seems that everybody is having a better time than you, chances are, they are having the same problem as you. We are all just people after all. No matter how unique, we are all basically the same. And relating to others, well, it will help you enjoy your time in Florida like never before. Merry Christmas!
---
Author bio:
Christina Perry is a blog owner, writer, and explorer. She has one goal in mind – to make other people's lives easier, and that is what her writing is all about.